Back to What's New
Burning Down the House: The End of Juvenile Prison
---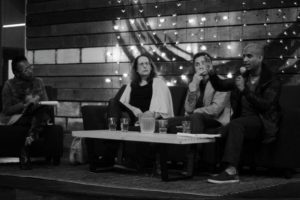 As the Chronicle of Social Change recently wrote, "It is not ordinary to see people lined up around the block to hear a panel discussion on juvenile justice." But that's exactly what happened on January 14, when nearly 200 people gathered in downtown Oakland for a conversation around the book, "Burning Down the House: The End of Juvenile Prison."
Read more about the panel discussion here. See photos from the event here.
Moderated by Rosenberg's Program Director, Lateefah Simon, the conversation featured Nell Bernstein, the book's author; Raj Jayadev, founder and executive director of Silicon Valley De-Bug; and Zach Norris, executive director of Ella Baker Center for Human Rights. Oakland Poet Jazz Monique Hudson, of Youth Uprising, kicked off the discussion with a powerful performance.
The event was sponsored by Rosenberg, along with Akonadi Foundation, Sierra Health Foundation, The California Endowment, The California Wellness Foundation, Zellerbach Family Foundation and The New Press. Audience members included youth and advocates along with funders and policy makers.
Additional Resources:
More on Burning Down the House
Ella Baker Center for Human RIghts
Silicon Valley De-Bug's Albert Cobarrubias Justice Project (ACJP),