Back to What's New
Join MALDEF on March 14 for the 2012 Latino State of the State
---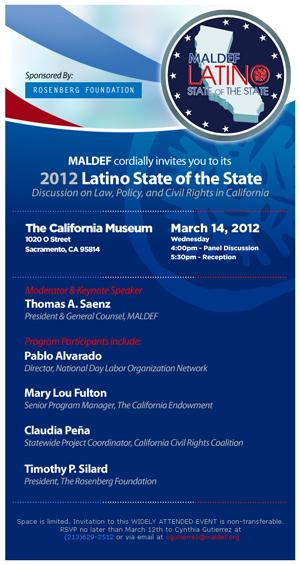 On March 14, in Sacramento, join MALDEF for its 2012 Latino State of the State, a discussion on law, policy and civil rights in California, sponsored by the Rosenberg Foundation. This year's Latino State of the State features a keynote speech by Thomas A. Saenz, MALDEF's President and General Counsel, and includes a panel discussion with Pablo Alvarado, Director of NDLON; Mary Lou Fulton, Senior Program Manager at The California Endowment; Claudia Pena, California Civil Rights Coalition's Statewide Coordinator; and Timothy P. Silard, Rosenberg Foundation President. A special screening of The Harvest documentary will follow at 6:30 p.m.
MALDEF 2012 Latino State of the State
Wednesday, March 14, 2012, 4 p.m.
The California Museum
1020 O Street
Sacramento, CA 95814
For event information, please contact Cynthia Gutierrez at 213-629-2512, or via email.