Back to What's New
Justice in California – Look to the Future
---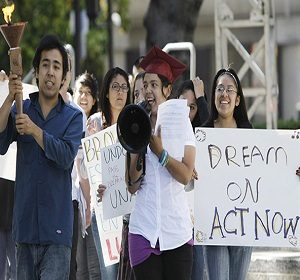 For this edition of Justice in California, we asked some of the leading thinkers and advocates in social justice to share with us their bold ideas, strategies, and vision on innovative ways that we can collectively work towards a stronger California. These leaders are working to make the promise of full and equal participation in our shared economic, political, and civic life a reality for every Californian.
We believe that immigrants are vital to California's economy and our communities. So, we asked Maria Echaveste, Benjamin Todd Jealous, and Kate Kendell to share their thoughts on how we can harness the power of the "New American Majority" to usher in real change, beginning with a new immigration process. DREAMers Sofia Campos, Catherine Eusebio, and Jorge Gutierrez delve into how undocumented immigrant youth are drawing strength from their differences to form a formidable movement that has ignited the country. Ai-jen Poo and Laphonza Butler discuss exciting opportunities at the intersection of immigrant and workers' rights. Maisie Greenawalt, Erik Nicholson, and Minor Sinclair write about how socially conscious consumers can deliver justice for farm workers.
Criminal justice remains one of California's biggest challenges, and one that demands a shift in solutions and approaches. Lenore Anderson calls for a bold new vision for safety in the Golden State. Susan Burton and Judy Patrick write about how California must change its approach to incarcerating and rehabilitating women. San Francisco DA George Gascón makes his case on how prosecutors can transform the justice system for the better. And Dr. Nadine Burke Harris and Esta Soler discuss why we must stem the tide of violence and trauma experienced by children, an urgent epidemic that has far reaching consequences.
We are excited to share with you these thought pieces by visionary—and indeed unconventional—leaders and advocates who are working tirelessly to achieve a brighter future for all of us. As always, our hope for this publication is that it will inform our public conversation on how best to realize our common dreams for justice and equality in California and beyond. We look forward to working with you on those goals.
Read more: http://justiceinca.rosenbergfound.org/