Back to What's New
Lateefah Simon Joins the Rosenberg Foundation's Board of Directors
---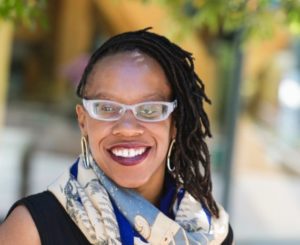 San Francisco, CA — The Rosenberg Foundation today announced the election of Lateefah Simon, president of Akonadi Foundation, to its Board of Directors.
"Lateefah Simon is a fearless warrior," said Tim Silard, President of the Foundation. "We are thrilled to have her back in a leadership position bringing her deep expertise, energy, and creativity to the Board of Directors to help advance the Foundation's work at a time when racial and economic justice and immigrant rights are under severe attack."
A nationally recognized advocate for civil rights and racial justice, Lateefah brings 20 years of executive experience advancing opportunities for communities of color and low-income communities. Prior to joining Akonadi Foundation as President in August 2016, Lateefah served as Program Director for the Rosenberg Foundation where she managed the Foundation's portfolio of grants supporting groundbreaking advocacy in criminal justice reform, immigrant rights, low-wage workers' rights, and civic engagement. In 2016, Lateefah helped the foundation launch the $2 million Leading Edge Fund, created to seed and accelerate bold ideas from the next generation of visionary movement leaders in California.
Before joining Rosenberg, Lateefah was Executive Director of the Lawyers' Committee for Civil Rights of the San Francisco Bay Area, where she revamped the 40-year-old organization's structure and launched successful community-based initiatives, including the Second Chance Legal Services Clinic. Lateefah's passion for supporting low-income young women and girls, and her advocacy for juvenile and criminal justice reform, began at San Francisco's Center for Young Women's Development, now called the Young Women's Freedom Center, where she became Executive Director at age 19.
Lateefah has received the MacArthur "Genius" Fellowship and the Jefferson Award for extraordinary public service. She was named "Most Promising New Foundation President" by Inside Philanthropy in 2017, one of the Chronicle of Philanthropy's 40 Under 40 in 2016, and The California State Assembly named Lateefah Woman of the Year. In 2016, Lateefah was elected to serve District 7 on the BART Board of Directors and was appointed by Gov. Jerry Brown to the California State University's Board of Trustees. She also serves on the Board of Directors for Tipping Point Community.
About the Rosenberg Foundation:
The Rosenberg Foundation is an independent, grantmaking foundation committed to ensuring that every person in California has an equal opportunity to participate fully in the state's economic, social, and political life. Created in 1935 through the bequest of California business leader Max L. Rosenberg, the Foundation has provided more than 3,000 grants totaling nearly $85 million to regional, statewide and national organizations advocating for social and economic justice throughout California. Online at www.Rosenbergfound.org. On Twitter @RosenbergFound