Back to What's New
Rosenberg Foundation Selects Nine Movement Leaders as Leading Edge Fellows
---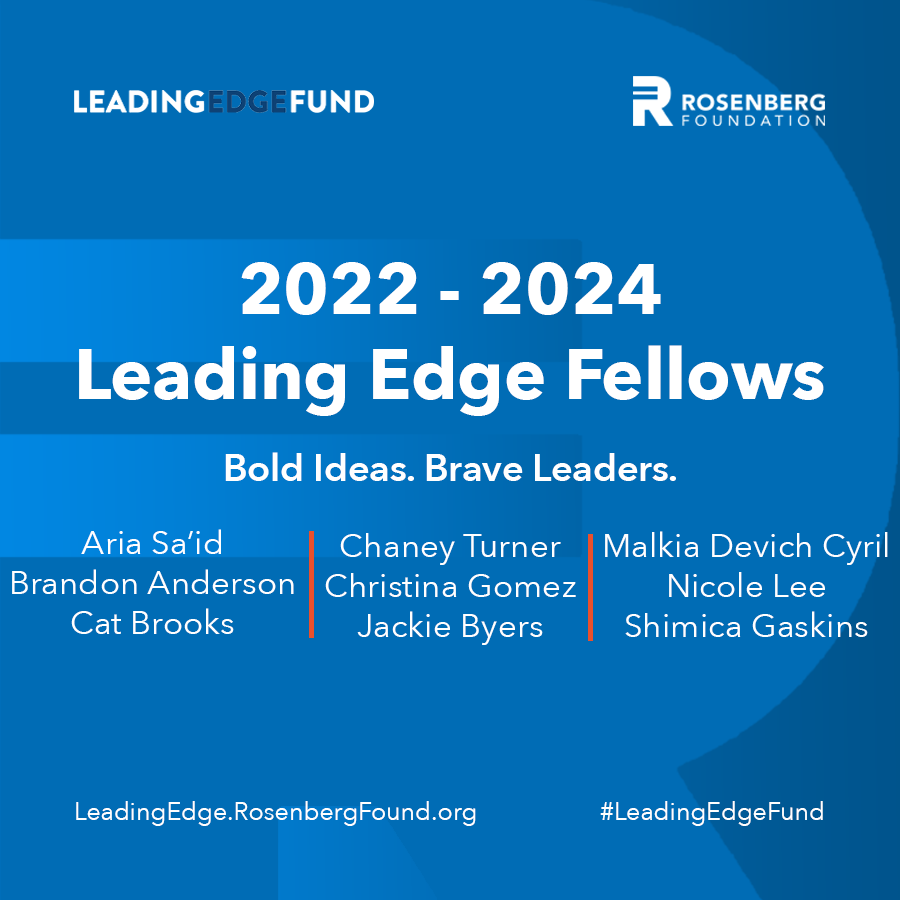 The Rosenberg Foundation announced today that nine bold movement leaders have been selected as Leading Edge fellows for the next three years. Launched in 2016, the Leading Edge Fund was created to seed, incubate and accelerate bold ideas from the next generation of progressive movement leaders in California. With support from the Leading Edge Fund, the fellows will work to end and replace the  incarceration and criminalization of young people of color, build economic hubs led by and for transgender people, create alternatives to police response, end child poverty, and much more.
"Now, more than ever, we need visionaries like these nine fellows to imagine and guide us toward a world free of racist systems and policies, to make real their visions of equity and justice," said Tim Silard, President of the Rosenberg Foundation. "As funders, we have the incredible privilege to invest deeply and flexibly in bold leaders whose 'radical' ideas to win racial and economic justice can soon be the norm."
The Leading Edge Fund supports emerging movement leaders by providing unrestricted funding and leadership development so that they can pursue the bold visions for change that lasting transformation demands. Fellows receive $250,000 in general support over three years; individualized technical assistance in program development, fundraising and strategic communications, executive coaching; and trainings and retreats. The 2022 to 2024 formation of Leading Edge Fund Fellows are:
Aria Sa'id aims to end the ecomomic oppression and marginalization of transgender people by creating thriving economic hubs led by and for transgender people of color.

Brandon Anderson is disrupting the 911 system and ending aggressive police response by building an alternative dispatching system that meets people's needs during acute crises without ever involving police.

Cat Brooks is revolutionizing public safety in cities across the state by engaging visual arts, theater and organizing to imagine and implement abolitionist solutions to effectively respond to community crises with care – not a badge and a gun. 

Chaney Turner is working to win tax and policy changes so people in the communities most harmed by the drug war can enter the cannabis economy, and realize equity and economic mobility by increasing reinvestment in those communities. 

Christina "Krea" Gomez' vision is replacing punitive and dehumanizing systems with a comprehensive new architecture that provides young people with the support and resources they need to address their trauma, heal and thrive.

Jackie Byers is inspiring  radical change through grass-roots organizing, telling the story of Black organizing that led to historic victories and a national reckoning around the role of police in schools and communities.

Malkia Devich Cyril is creating a Radical Loss Movement, mobilizing California's bereaved Black, Indigenous, Latinx and other communities of color to build a radical practice of grief that can fuel transformative grievance and governance, replacing  racialized policies and practices that punish and disenfranchise BIPOC grief.

Nicole Lee is working to end youth incarceration in Alameda County and pass that torch to the next generation of activists who are reimagining an entirely new youth justice system across California

Shimica Gaskins vision is to close the racial wealth gap and create economic mobility for California's most vulnerable children by piloting the largest baby bond program in the country 
"We are in a moment where we have the opportunity to make transformative progress toward a more racially just California," said Kendra Fox-Davis, Chief Program Officer at Rosenberg Foundation. "I am inspired by these brave and bold leaders, and truly believe that we will all be better off because they dare to not only dream but to bring their dreams to reality."
Since the launch of the Leading Edge Fund in 2016, the foundation has invested more than $8.5 million in 26 fellows. Founded by the Rosenberg Foundation in partnership with the Hellman Foundation, the fund is also supported by the Meadow Fund, Akonadi Foundation, The California Wellness Foundation and the Heising-Simons Foundation. To learn more about the Leading Edge Fund and previous fellows, visit LeadingEdgeFund.RosenbergFound.org.
About the Rosenberg Foundation: The Rosenberg Foundation is an independent, grantmaking foundation committed to equity, ensuring that every person in California has an equal opportunity to participate fully in the state's economic, social, and political life. The Foundation supports organizations and innovative leaders building power to win deep, long-term, structural change. Created in 1935 through the bequest of California business leader Max L. Rosenberg, the Foundation has provided more than 3,000 grants totaling nearly $85 million to regional, statewide and national organizations advocating for social and economic justice throughout California. For more information: www.RosenbergFound.org. On social media at @RosenbergFound