Back to What's New
Sanctuary for All: Mobilizing to Resist Mass Incarceration and Mass Deportation
---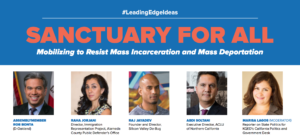 Join us for a crucial conversation about the intersection of criminal justice and immigration.
Our communities are under attack from Trump administration policies ushering in a new era of mass incarceration and an unprecedented increase in the criminalization, detention and deportation of our immigrant families and neighbors. Part of the #LeadingEdgeIdeas series, the Rosenberg Foundation and Heising-Simons Foundation will bring together leading experts for an important discussion on how we can stand together to protect our communities and our deeply held values of justice, inclusion and equity for all.
The conversation will be moderated by Marisa Lagos, Reporter on state politics for KQED's California Politics and Government Desk, with a light reception to follow. Panelists include:
Asm. Rob Bonta (D-Oakland)
Raha Jorjani: Director, Immigration Representation Project, Alameda County Public Defender's Office
Raj Jayadev: Founder and Director, Silicon Valley De-Bug
Abdi Soltani: Executive Director, ACLU Northern California
This event is free and open to the public. Limited seating, please RSVP at bit.ly/SanctuaryForAll.