Back to What's New
Sanctuary for All: Standing Together to Protect Our Communities
---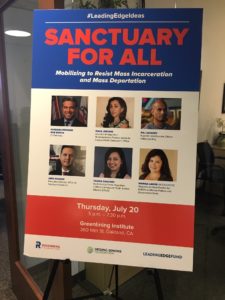 From Jeff Sessions' return to a "law and order" approach that threatens to roll back hard-fought criminal justice reforms to the criminalization, detention and deportation of our immigrant friends, families and neighbors, our communities are under attack.
The new administration has created a climate of discrimination and suspicion. While the evidence is clear that immigrant communities have lower crime rates than communities of those born in the U.S., immigrants and other marginalized groups are increasingly being criminalized.
In July, the Rosenberg Foundation and the Heising-Simons Foundation hosted a panel discussion at the Greenlining Institute in Oakland on the intersection of the criminal justice and immigration. Sanctuary for All: Mobilizing to Resist Mass Incarceration and Mass Deportation explored the visionary work of community leaders who have dedicated their lives to protecting our communities and our deeply held values of justice, inclusion and equity for all. This timely discussion was the first in Rosenberg's #LeadingEdgeIdeas event series, which highlights the next generation of progressive movement leaders who are tackling deep barriers to opportunity for communities of color and low-income communities in California and around the country.
Marisa Lagos of KQED moderated the conversation. Sanctuary for All panelists included Assemblymember Rob Bonta; Executive Director of Silicon Valley De-Bug and Leading Edge Fellow Raj Jayadev; Director of the Immigration Representation Project of the Alameda County Public Defender's Office and Leading Edge Fellow Raha Jorjani; Executive Director of ACLU of Northern California Abdi Soltani; and Northern California Organizer at California Immigrant Youth Justice Alliance Yadira Sanchez.
Panelists shared experiences from their work focused on ending mass incarceration and mass deportation among people of color, immigrants and low-income communities, and discussed strategies for protecting these communities:
Raj Jayadev noted that in the current political climate he sees an opportunity to de-link two systems of oppression that have been conflated to hurt us all, and that Sanctuary for All should be regarded as a North Star that guides our collective work.
Raha Jorjani reiterated that current immigration laws and the lack of immigrants' right to counsel offends due process, a violation of the constitution, and that the legal system has a responsibility to do more to protect these rights.
Assemblymember Rob Bonta of Oakland reminded the audience that while immigrants are under full frontal attack by our federal government, we should never underestimate the power of the people to affect systems change.
Yadira Sanchez gave powerful testimony to the importance of standing together as a community to fight for the rights and the safety of our immigrant friends, families, and neighbors.
The panelists were joined by over 100 decision makers, advocates, organizers, community leaders and funders.
For more information on the Leading Edge Fund and the #LeadingEdgeIdeas series, please visit leadingedge.rosenbergfound.org. To learn about the Rosenberg Foundation, please visit rosenbergfound.org.