Back to What's New
Silicon Valley De-Bug Leads the Charge on Criminal Justice Reform
---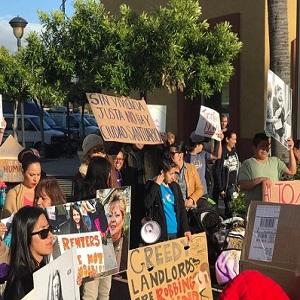 When Raj Jayadev, co-founder of Silicon Valley De-Bug, started his organization nearly 17 years ago, he envisioned a space where people of color and low-income families could have their voices heard through storytelling.
Today, Silicon Valley De-Bug has grown to become a leading force for criminal justice reform. In the past few years, De-Bug has been instrumental in mobilizing people power to move local and statewide criminal justice reform, bringing innovation to jurisdictions across the country, and helping shape social justice movements.
Responding to the experiences of members entangled in the justice system, De-Bug launched the Albert Cobarrubias Justice Project, a network of families, organizers and advocates whose loved ones are charged with crimes that support each other to impact the outcome of cases and transform the landscape of power in courtrooms. De-Bug calls the methodology "participatory defense" and is training organizations around the country on how to build the approach.
Simply put, participatory defense means rallying the community and engaging families and friends to actively support the defense of a friend or loved one facing prosecution. It means holding the public agencies that make up the criminal justice system accountable. And, by bringing friends and family into courtrooms to advocate for defendants, it means bringing a powerful community presence to what is usually a very isolated, opaque and drawn out court process.
By using this approach in more than 400 cases, participatory defense has resulted in acquittals, had charges dismissed or reduced, changed prison sentences to rehabilitation services and even gotten rid of life sentences. As of January 2018 the National Participatory Defense Network has saved people a total of 4,218 years of incarceration since it started ten years ago. More than 20 cities including Baltimore, Nashville, Philadelphia and Boston are using this model to transform the justice system.
"To date, we have seen such a change in criminal proceedings in our justice system in California.  And it is not only the case outcomes that are so moving, it is the transformation in the families who are asserting their agency over a system that was intended to separate them." said Jayadev. "Loved ones are now home and out of jail, because of how their surrounding community stepped up to the plate and supported them in their time of need. It is so amazing to see how the strength and power within a community can make a difference in someone's future when it comes to the criminal justice system."
In addition to participatory defense, Silicon Valley De-Bug has also taken on the money bail system in Santa Clara County and statewide in California. California, like almost every state, has created a class-based money-bail system, one for those who can afford to get out of jail and one for those who cannot. This system gives people who can afford it a "get out of jail card" while those who can't afford to make bail are forced to stay behind bars or go into debt trying to get out, even though they have not been convicted and are presumed innocent while they await trial.
Communities of color are most impacted. African Americans are five times more likely to get arrested than white people—and black defendants are disproportionately unable to afford bail compared to their white counterparts.  Being unable to make bail or afford the costs associated with being in jail for days or even months at a time have a long-term effect on people of color and their lives. Often they lose their jobs after just a few days in jail since they cannot show up to work and then they lose their housing because they are unable to pay their rent.  Many lose custody of their children while they languish behind bars simply for the crime of being too poor to afford bail.
De-Bug's work has led to positive changes in Santa Clara County. Recently, Santa Clara moved forward with a concept initiated by De-Bug called the Community Release Project — an innovation born of De-Bug's participatory defense approach — which allows a pretrial defendant to be released with the support of a community organization, rather than having to pay money bail or be under system supervision, such as ankle monitoring. Jayadev sees the initiative as having national implications. He said, "As money bail is being challenged in jurisdictions across the country, the natural concern is an increase of system supervision through other means. But we are suggesting there is a third option — engaging the strength of the community."
Based on success in Santa Clara, De-Bug is playing a leadership role in a coalition of advocates and organizers pushing for California's money bail system to be replaced across the state.
"There are so many biases within our criminal justice system, not only in California, but across the nation—and it is time we reevaluate," said Jayadev. "It is time for us to change how bail works. The concept of honoring liberty and public safety are not at odds, and actually go hand in hand. Silicon Valley De-Bug is demonstrating that organized people power can move mountains to transform the justice system."